Getting to Tokyo from all over the world
Tokyo has two major airports, Haneda Airport (
Tokyo International Airport
) and Narita Airport (
New Tokyo International Airport
). The city is very well connected to the major cities in the world via these airports. Especially, Haneda Airport, the gateway to the skies for Tokyo, is located just 30 minutes away from the city center by train. The airport's growing number of international flights are making Tokyo even much more convenient.
VISA information
Please make sure to check out if you need a visa to enter Japan. Invitation letters for visa purposes can only be sent to authors/co-authors of accepted papers who have completed the registration process. Please follow the instructions in the registration system if necessary. As for the details of the registration, please see the Registration and Accommodation page.
More details for VISA to enter Japan can be found here.
Getting to Tokyo from Haneda Airport
Haneda Airport is the largest airport in Japan, offering services both within the country and abroad.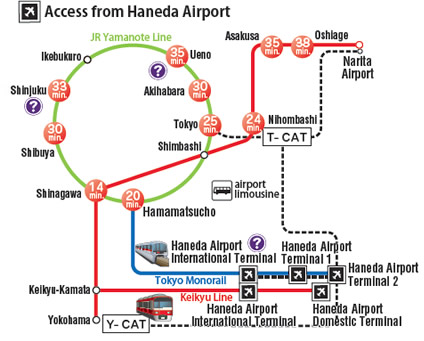 Many international flights arrive and depart in the early morning (between 4am and 6am) and the late evening (between 10pm and 2am). The Tokyo Monorail and Keikyu Railways stop operation shortly after midnight. The last services still provide a connection to the JR Yamanote Line at Hamamatsucho Station and Shinagawa Station respectively, from where the Yamanote Line can take you to most of Tokyo's main districts, including Shinjuku, Shibuya, Ikebukuro and Tokyo Station by around 1am. However, note that many hotels do not allow late-hour check-ins. Airport bus companies operate a few late-night connections from Haneda Airport's international terminal to various places in Tokyo and Yokohama until around 2am, but they are more expensive than buses departing before midnight (typically twice the regular fare). Places connected by these late-night buses include Tokyo Station, Ginza, Akihabara, Shinjuku, Shibuya, Ikebukuro, Shinagawa and Yokohama Station.
The first connections to the airport by the Tokyo Monorail and Keikyu Railways arrive at the international terminal around 5:15 and 5:30 respectively, while early morning buses from central Tokyo and Yokohama start arriving around 4:30. Places connected by these early-morning buses include Tokyo Station, Ginza, Akihabara, Shinjuku, Shibuya, Ikebukuro, Shinagawa and Yokohama Station.

Getting to Tokyo from Narita Airport
Narita International Airport, a representative gateway to Japan, is located about 60km outside of Tokyo.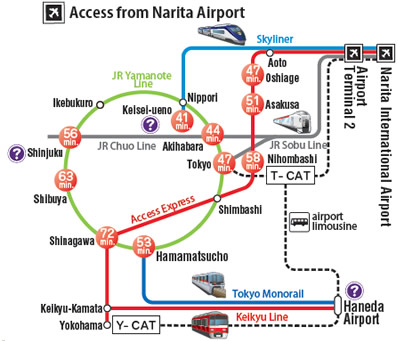 Narita Airport is connected with central Tokyo by multiple rail and bus lines. The most comfortable way of travel between Narita Airport and Tokyo Station is the JR Narita Express (NEX). All seats are reserved. The NEX Tokyo Round Trip Ticket for foreign travelers provides a discount over regular tickets. Keisei Skyliner is another comfortable way to get to the heart of Tokyo, connecting the airport with Ueno Station. All seats are reserved. Keisei offers discount ticket packages to arriving tourists that combine the Skyliner ride from the airport to central Tokyo with day passes for the subway lines in Tokyo.
Limousine buses to Tokyo Station depart Narita Airport every 15 to 20 minutes. The one way journey takes about 100 minutes and costs 3100 yen. In addition, there are direct limousine bus connections to several major hotels in the Tokyo Station area. A special round trip ticket for only 4500 yen is available to foreign tourists exclusively.
Tokyo Shuttle bus service operates roughly three times per hour between Narita Airport and Tokyo Station. The one way fare is 1000 yen during the day and 2000 yen for late-night and early-morning departures. If tickets are purchased in advance via the internet, the one way fare is 900 yen. The discounted fare also applies to purchases of tickets in direction of the airport made by phone or at a convenience store.
Local Tours and Activities
Our agent JTB Global Marketing & Travel Inc. offers many tours and activities through its company Sunrise Tours. Visit the following site for the detailed information:
Booking Tours and Activities (Sunrise Tours)